Santa Fe Catholic High School Has Been Providing Educational Excellence for Over 50 Years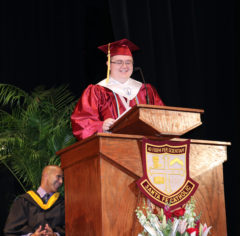 A Catholic education is a challenging education. High standards, strong motivation, effective discipline and an atmosphere of caring combine to foster excellence, and, a high quality of student performance is supported by the evidence. Recent studies continue to support the fact that Catholic schools are producing students prepared to lead in the 21st Century.
The academic program is college preparatory. We emphasize those courses necessary to prepare students for the rigors of college while recognizing that each student is an individual with his or her own unique learning style.
Standardized test scores show students attending Catholic schools performed well above state and national averages; and a college acceptance rate of over 98% reflect that our students are self-disciplined, self-motivated, responsible, and creative.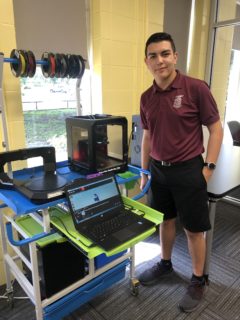 Perhaps the most impressive statistic is that 100% of our students graduate having received the solid values base that will make them good people and responsible citizens of our country.  Students are taught to be respectful and compassionate, and emphasis is not only placed on academic achievement but on moral and spiritual growth.
With a 21st-century approach, our teachers focus on developing creative and critical thinkers using Common Core Standards of technology. Students are encouraged to use collective and problem-based learning, which teaches finding solutions to real-world problems. New-world social skills and technology are used in the classrooms to the students' advantage. SFC has been accredited by AdvancED,  formerly SACS, since 1972.
Santa Fe Catholic offers a complete package to students, from a faith-based education to top-notch academics; a multicultural experience with international students and many extracurricular activities in which students can become leaders, team members, athletes, artists, writers and much more.
Five types of programs are offered at Santa Fe Catholic High School:
College Preparatory with Skills Assistance:  A program is available to assist students in developing additional proficiencies.  It will strengthen the students' basic skills. This program is designed to enable students to succeed in the SFC college preparatory program and to prepare them for college.
College Preparatory: These courses are designed to challenge students.
College Preparatory with Honors: These courses are designed to meet the needs of students who are capable of more challenging coursework. Students, who earn grades of C and above, receive 0.5 additional quality points.
College Preparatory with Dual Enrollment: Courses are available to our students with over all GPA of 3.0 or higher on Santa Fe Catholic's campus through Barry University and Polk State College. Both Universities also offer online options. Students have the opportunity to go to the local colleges to take dual enrollment as well.
College Preparatory with Advanced Placement: The courses present college level material and conclude with students taking Advanced Placement tests, administered by the College Board. Students are required to take the Advanced Placement test if they take an Advanced Placement course. Successful performance on the examination may result in college credit. Students receive additional l.0 quality points for a C or better in Advanced Placement courses.