Important Information for Junior Parents!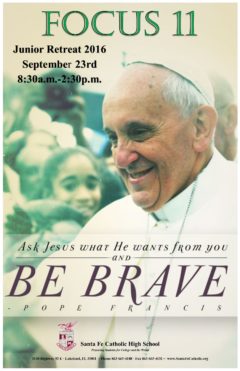 Hello Junior Parents!
Bethany McBride here from the Campus Ministry Office. This Friday, September 23rd, is our Junior Retreat – FOCUS 11.
FOCUS 11 is a Diocese-wide retreat day for the Juniors that celebrates Catholic Vocations. In the years prior, FOCUS 11 has been held in Orlando with all of the Diocesan Catholic High Schools. This year, we are trying something new by hosting each retreat at the individual high schools; Santa Fe is up first! This day will be filled with games, talks, prayer time, and fun! Joining us for the day will be Bishop John Noonan, all of the Western Deanery Priests, Diocesan speakers, Religious Sisters, Florida Southern College Catholic Campus Ministry Team, and more.
This is a very exciting day for us here at Santa Fe, and we cannot wait to encounter Christ with your child!
FOCUS 11
When: Friday, September 23rd, 2016
             8:30am-2:30pm
Where: Santa Fe Catholic High School
What: Junior Retreat
Dress: Tag Day (Jeans, and Santa Fe T-shirt)
In Christ,
Bethany McBride