Martin D. Power and Bishop Norbert M. Dorsey Awards Go To….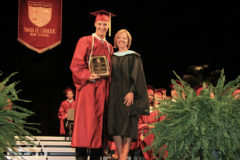 The Martin D. Power Award is given each year by the faculty to the senior who not only has been actively involved in school athletics, but has also maintained a minimum grade point average of 3.5 or better while displaying sportsmanship and leadership both on and off the field. This year the award went to Zach Scott. Congratulations, Zach!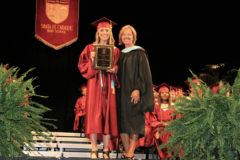 The faculty gives the Bishop Norbert M. Dorsey Award to a graduating senior who best embodies the values taught at Santa Fe High School. The recipient is a student who is dependable, honest, responsible, and compassionate. The student is a person of character who we can be proud to say is a graduate of Santa Fe Catholic. This year the award went to Maddie Taylor.  Congratulations, Maddie!